Traveling solo is not for everyone, but it is a skill that I am constantly working on to get the best out of my experiences around the world. Traveling alone allows you to learn more about yourself and what surrounds you. Whether you are 18 or 80, a man or a woman, introverted or extroverted, I really encourage you to travel solo once in your lifetime.
To help you see more clearly and have more self-confidence, or to reinforce your taste for solo trips if you are used to doing it, I tried to distill my experiences into a top 10 tips that I will have to give you if you plan to travel solo. I hope this will open up new horizons and boost you to explore the world.
Look around and forget your travel guide
No matter where you go and for how long you stay, the very first thing I do when I explore a new city or country is to go to a crowded place and have a coffee watching the people in their element. After less than an hour looking at the people around you, you will know a little more about the culture and habits of this country, much better than in a city guide. I then use what I have just learned to know how to behave with people I meet, by showing them that I make the effort to understand their culture and to adapt to it. It's a great way to make new friends and it will help you build real relationships even if you only stay for a few days.
Learn to say yes
You'll either have a good time or have an anecdote to tell, but in any case, it's one of the secrets for solo travelers. Say yes for a coffee, say yes for a hike, yes for a road trip, and get out of your comfort zone. So much so that you will feel like a stranger when you return. Say yes to the adventure. The advantage of not traveling with a group and that you will probably say "yes" to most things that cross your path.
Learn to meet while travelling alone
One of the best things about traveling alone is that you have the famous "HEY, COME TALK TO ME" sign on your forehead. There is no wall or one of your friends who can block a potential meeting and lively discussion with another traveler. People are curious and if you seem foreign, they will want to know your story. And in return, you will learn theirs.
All you need to do is show the world that you are open to new dating. The best way to meet new people while traveling is to explore places where it is easy for people to approach you: cafes, parks, museums, hostel bars… Take a book with you instead of looking at your phone, it will attract the attention of people around you and facilitate discussion.
Know your alcohol limits
At the risk of passing for the mature adult, I am trying to become, it is important to understand your tolerance level when you drink. And it's not just about young ladies. Being completely drunk is not attractive, especially when you are travelling. You risk wasting your time in your adventure by trying to recover from your hangovers in your hostel dormitory … which will not make a good impression on other travelers. Knowing your limits and just reaching tipsy without being drunk will allow you to have a good time while remaining responsible. Yes I know, I know: what is this witchcraft? It's a little magic. Quite difficult at first but more than doable with a little practice.
If this is your first solo trip, forget the "stranger = danger"
It is even more difficult when traveling alone for the first time for the simple reason that it is ingrained in your consciousness since your childhood. If you are about to make your very first solo trip, you will certainly be a little on the reserve and wary of strangers who will cross your path. But the more you travel, the more you will realize that 99% of humans are good people. By keeping an open mind, no matter where you go, you will make the most of your trip. The word "stranger" has a negative connotation but I am convinced that strangers are simply friends whom we have not yet had the chance to meet.
We all love, suffer and cry in the same way. We all have emotions. We all love music. There are commonalities in all kinds of things in life so don't hesitate to start the discussion with someone you just met.
10 seconds top time to introduce yourself
The first question you may be asked is where you come from and the length of your trip. After talking about the basics, it may be good to have a short 10-second speech to open the discussion. I'm not talking about a speech learned by the heart of course but to have a few tracks to help you connect the conversation more easily, which will help you make new friends.
For me, it's always about something I like about the country where the person in front of me comes from, for example, which I compare with my experience in the United States; It does not hurt to show what you like about the country you are visiting and it allows you to start a rather positive discussion.
Smile more
There is nothing better than a beautiful, big smile. People go more easily to me, compliment my smile, and the next minute we will be laughing and learning more about each other in a restaurant. This is one of the most important tips for people traveling alone. The smiles are warm, inviting to meet, and are universal. They can be translated and understood in any language, and this is something to keep in mind when traveling to a new destination.
Dare to do something new
Salsa. Climbing, trekking and skiing. Attempt unknown food. By opening up to these new experiences, you will meet many people who will bond you more with the people with whom you share them. The truth of learning to travel alone is that you will never be truly alone. As soon as you try a new activity,  you will be with a group of people who will share this moment with you. And the beauty of being away from your friends and family is that you can try new experiences more freely. If you are looking for a ski destination, Megeve is one of the best skiing locations in the world and there are also many luxury ski chalets in Megeve to choose from according to your budget.
Keep your friends & family in the touch
A quick and simple precaution when traveling alone is to always keep your loved ones up to date on your destination, no matter where you go. If you do not post your trips regularly on social networks and show others that everything is fine, it is always good to warn a few people in case of an emergency.
Do not underestimate the famous "Hello"
We are all the same after all, isn't it?. Humans. And by treating everyone the same, with so much love, kindness, and respect, you open yourself up to new perspectives and opportunities in life. Enough to add good karma to your trip.
I firmly believe that the universe will give you back everything you give, all the positive energy you give to the world, so be respectful to everyone. A simple "Hello" will take you very far.
So I hope I have managed to convince you to travel solo, one of the most memorable experiences of your life. I hope that you will keep these tips in mind and come back with lots of memories and anecdotes.
Summary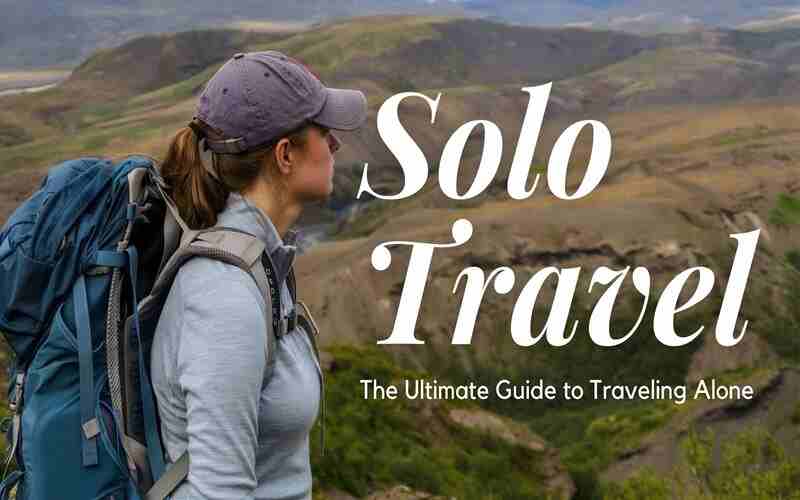 Article Name
10 Ways Traveling Solo Will Change Your Life
Description
Travelling solo is not for everyone, but it is a skill that I am constantly working on to get the best out of my experiences around the world.
Author
Publisher Name
Publisher Logo