For every business owner in today's time, the online appearance is everything. If you are looking to develop an effective website, you will get millions of ways online to make an effective website. Web design plays an integral part in creating a successful website.
The maximum number of people judge the credibility of a company by its web design. As a result, an effective website design will have increased conversion, bounce rate, etc. Therefore, let us look into the following top ten ways that will help you to improve your website development.
Make it easy to navigate.
The elements of the menu should be easily accessible from any page. Along with this, the website design should be simple to navigate. The viewer should be able to understand where they are on the website and can quickly navigate to the places they want to go. A site map is a modern concept, and if it is available, it must be used. It might seem pretty obvious, but most websites could do some work in this area. Remember that there's a thin line between an interactive menu and one that's obnoxious, so focus on utility.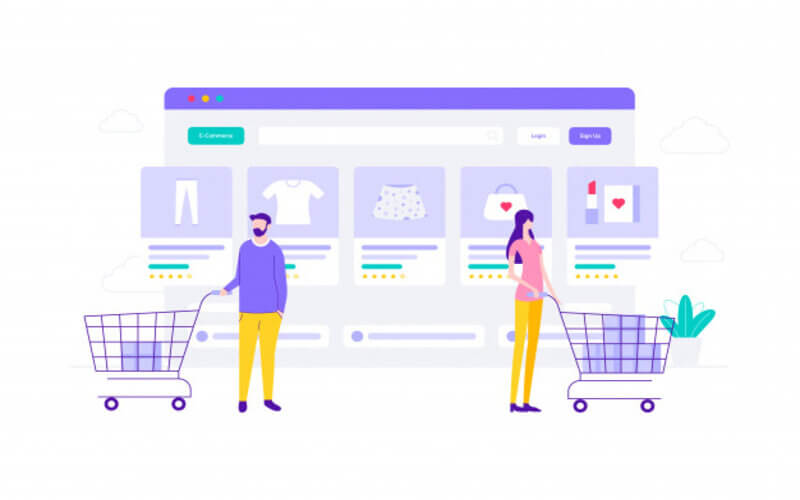 Visual impact is essential.
People are visual animals. Therefore using eye-catching images is an excellent way to improve the appeal of your website. To wow your visitor, your website has around a tenth of a second and convince them that your website is reliable and professional. It's crucial, though, not to go overboard with too much.
Good Content
It is the foundation of your site. Not only does your content influence your search engine ranking, but it's also the reason most users come to your site in the first place. The material on your website should be helpful, organized, simple to read, and brief. More than anything else, well-thought-out web content and a copy will help your website design become more engaging, effective, and popular.
Make your website Web-friendly
Your website design, no matter how informative, gorgeous, or simple to use it is, is meaningless unless it is web-friendly. Your web designers must understand how to make your website work in all major browsers, including using meta tags, alt tags, and SEO (Search Engine Optimization). Many elements influence your site's search engine ranking and visual appearance, so be sure your web designers know what they're doing.
User-friendly
A genuinely successful website design grabs your visitors' interest right away and keeps it throughout every page, influencing them to contact you. It is known as 'conversion,' and it is most likely the ultimate purpose of your website. Again, the line between interaction and annoyance is quite thin. Therefore the level of interaction should never be greater than the benefit.
Easy to Access information.
Not everyone who visits your website is interested in or has the time to look through the website. They may merely require access to a phone number or location or to a specific piece of information. As a result, it's critical to put crucial information in plain sight, in an easily accessible location. We've all been frustrated by not finding information on a website, and the outcome is always a frustrated visitor. At best, the experience is grating, and a frustrated visitor will leave quickly and is unlikely to return, let alone do business with you.
Follow your gut.
An effective website calculates what your visitors are thinking and caters to their specific needs, with elements organized in a logical order. Suppose a visitor is looking for one of your products or services on a search engine or directory where your website is listed. In that case, your website must have a landing page that is directly relevant to what they're looking for rather than requiring them to wade through all of your content. As we all know, the shortest distance between two places is just a straight line.
Show what your Brand stands for.
Your website should depict an accurate reflection of your company and brand. Your visitor should be able to see a visual link between your logo, printed materials, and physical location right away. A website that accomplishes this enhances the memorability of your branding, adds credibility and improves the image of your company as a whole.
Turnaround Time
The time it takes to get a website up and running is the number one complaint of website design customers. Unfortunately, a company that takes an unusually long time to create your website is standard. The more time it takes to finish the website, the more business – and value – you will lose. If your website is not on the internet and it is not functioning properly, then it will not bring you any business!
Organic Conversion
Your website might be an essential client generator for your company. The main focus of your website should be bringing in new clients and providing extra services to existing clients. You can achieve this by increasing awareness of all the services you provide. Providing customers with the tools they need to do business with you in a fun, and straightforward manner will boost your website conversion and help you achieve the success you desire.
Hopefully, the information above will assist you in improving your own site design. Please feel free to offer any other tips, studies, or information you may have.
Summary
Article Name
Top 10 web design tips to get the ideal website - Letsaskme
Description
We know how hard it is for non-designers to get the hang of this whole web design thing, so we created this handy guide to walk you through the basics.
Author