Price. Time. A lot of coding. These are some of the reasons businesses cite when asked why they run away from app development. In a way, they are not wrong. The reasons they cite are indeed accurate. Custom app development is expensive, time-consuming, and tedious. Even a seasoned app developer would not call the process of creating a mobile app easy. Businesses either have to build a team of developers or hire an app development agency to build apps. This takes a lot of investment of time & money. These reasons make app development radioactive for many businesses. And yet, we look around and find that people are spending most of their time browsing mobile apps. Despite hurdles in app development, there are serious payoffs if you manage to serve your audience and customers well. App development doesn't have to be difficult. You can build, design, and launch an app without bearing the cost of custom app development. This is possible with the use of a free app maker that provides a great environment for no-code app development. AppMySite is an example of the same. This piece explains how you can build a mobile app without coding using your WordPress website alone.
Step one – Choose a free app maker

The first step is choosing a no-code app maker. There are many other options you can choose from. AppMySite stands apart primarily because it helps you build native mobile apps. Creating a native app is important because it alone promises a high level of performance and experience.
You can also leverage a ton of point-and-click design options to personalize the app you create. One-click integration with WordPress further enables you to directly import content from your website. You can start making your app on AppMySite right after signing up.
Step two – Design your app
After you sign up and enter some details about your app, you will be redirected to your dashboard. The first step is designing your app. Select Appearance on the left panel menu. The following points explain all the design options you can leverage.
⦁ App icon – You can design your app icon here. Choose from the design features available such as color, text, font, and more. Alternatively, you can upload your own design as well.
⦁ Launch screen – The launch screen (also known as splash screen) appears when you launch an app and it is loading in the background. You can select from a range of design options to fill up your launch screen. This includes a background image, logo, and more.
⦁ Login & Sign-up – This section enables you to create the login, sign-up, and forgot password screens. Choose from design options to add a background image, change color theme of the buttons & fields, and more.
⦁ Color theme – Set the color theme of your app. You can make sure your app color theme matches your WordPress theme.
⦁ Home screen – This section provides a range of options to create the perfect home screen. You can completely customize your home screen appearance here and set up your app navigation seamlessly. Manage categories, set section colors, design banners, or even enable a web view interface for your home screen.
You can preview your app design at every stage with a live preview screen to the right on the page.
Step three – Connect website and app
The third step is connecting your WordPress website to AppMySite. This step is crucial when you are trying to import content from your WordPress website to your mobile app.
Follow the steps below to complete this process-
⦁ Download and activate the AppMySite WordPress plugin on your website.
⦁ Go to Install Plugin under Connectivity on your AppMySite account.
⦁ Hit Verify.
⦁ If the connection is complete, you will be directed to the App Preview. If not, go to Troubleshooting to figure out the connection issues between your website and app.
Once the connection is complete, you can start seeing your website resources displayed on the app. This is not just restricted to blog content. AppMySite allows you to import categories and menus to your app as well.
Step four – App Preview
App preview allows you to preview your app on both Android and iOS device emulators. This is a unique section where you can get a clear picture of how your app looks in a mobile environment.
You can choose from a number of device options when previewing your app. This is important as you always need to ensure your app is responsive across multiple devices.
Furthermore, you can download the AppMySite demo app to test your app on an actual mobile device. If you find areas for improvement when previewing your app, you can always go back and make the necessary changes.
Step five – Download app
The last step is finally downloading the app you've built on AppMySite. Generate your Android and iOS build to download your app from AppMySite. To generate the iOS build, you will need to submit some essential certificates. For Android, you have the option to download both APK and AAB builds. You can go through various support articles on the AppMySite knowledge base to learn how to submit an app on Google Play and App Store.
In conclusion App development doesn't have to be hard. You can use no-code app making solutions to make apps as well. AppMySite is a prime example of the same. The guide here explains the process of creating a mobile app for your WordPress website without coding.
Summary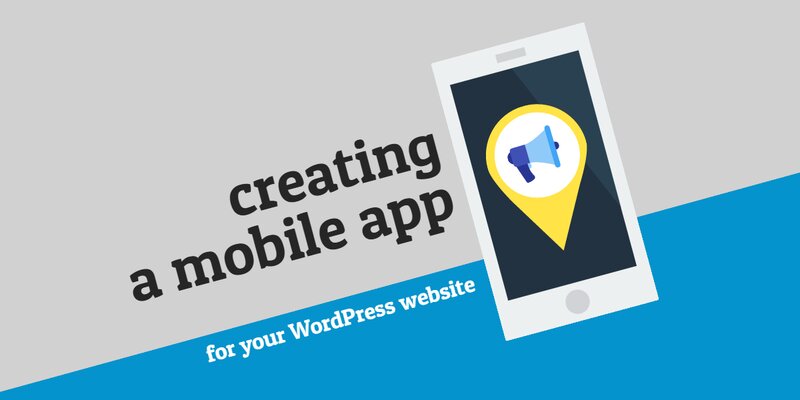 Article Name
How To Create A Mobile App For Your WordPress Website Without Coding?
Description
Businesses either have to build a team of developers or hire an app development agency to build apps. This takes a lot of investment of time & money.
Author