Social media has become a crucial tool these days for almost every kind of business that caters to the general public. It doesn't matter what your company is offering- whether it is a revolutionary body scrub, or magic vitamins, or the most exciting escape room in the world- if you have a product or service that needs to be marketed to a target audience, social media is an unavoidable necessity.
Why social media? Because currently, there are over 4.4 billion social media users globally. That means social media can give you easy access to a target audience as large as billions of people across borders to promote your business.
When used with the right strategy, social media marketing can skyrocket your sales as no other advertising method can. But it is very easy to get lost in the web of changing algorithms, trying to figure out a way to stay visible on the feed. This is why we have compiled a list of 10 social media strategy tips that will help you get ahead of the game!
Always have a proper social media marketing plan to start off with.
One of the most common mistakes many organizations tend to make is getting into social media haphazardly. Without proper research and a plan, your endeavors will reap zero results if you start this marketing process.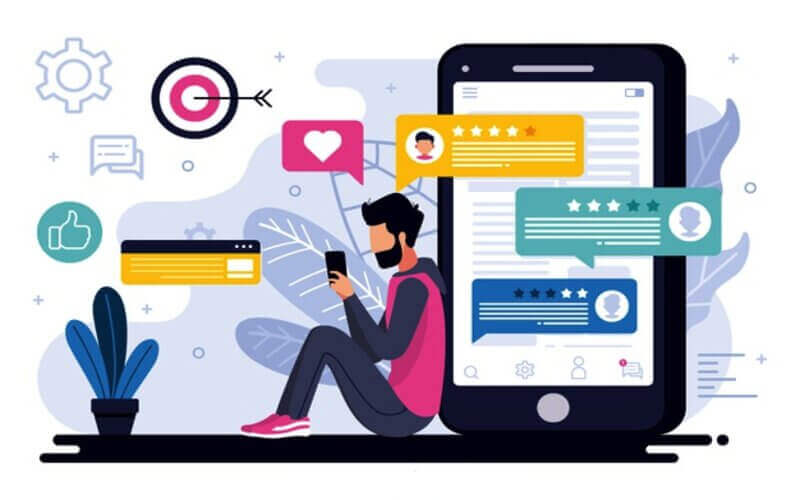 A good social media marketing plan should cover every aspect of the project- from the money to be spent on ads, the reach-out plan, the different content approaches for different platforms, and so on. Without a roadmap laid out in detail, it is impossible for any organization to conquer the field of social media.
Draft the budget of your company that may be invested in social media marketing.
Budgeting is a must when looking for a good social media strategy. There are multiple fields where your organization will have to spend money to get the best results. Some of the more obvious components where you can expect spending include- hiring an SEO expert, running ads on different platforms, and buying social media tools that give you access to useful analytics.
Always remember to define your target audience.
Often many businesses fail to reach out to more people largely because they may have forgotten ever to define their target audience in the first place. Not everyone present and active on social media is a suitable audience for your brand. Your team needs to determine precisely which demographic can bring you, potential consumers. Parameters such as age, income, location, and interests are the more generic ones. If your product focuses on more specific usage, then your target audience will also have to be narrowed down accordingly.
Engage with your viewers on a daily basis for better results!
No matter how many pictures or videos you post on your brand's social media feed, your engagement narrows down to how good you are in terms of directly interacting with your audience. It is also crucial that you value your viewers' opinions and show them through actions.
One of the many methods to develop a deeper, more personalized customer relationship is through posting pictures of your customers with your products, along with a brief review on your brand's social media feed. It shows your audience how your company takes its consumers seriously while also establishing the authenticity of your product's quality.
Stay away from being engaging in too much self-promotion
While promotion of your brand is needed, too much of it is harmful to your company's growth. No one likes a company that is far too boastful about its products.
So, engaging in self-promotion far too often is something to be avoided. Your company's self-promotion strategies must remain subtle in every way possible.
Are you keeping track of the analytics?
Keeping a steady eye on the analytics of your social media account at least every week, if not daily, is an unskippable task in this type of marketing. Most platforms now come with integrated features to give business accounts a detailed analytics report based on daily, weekly, monthly, and yearly performance. If an organization knows how to make use of this valuable data to boost its content, half the work is done right there.
Research on what works on which platform:
One of the rookie mistakes of social media marketing is to assume that every platform works the same way. It is a priority for your organization to understand how each different social media has its features, advantages, and disadvantages.
Doing thorough background research on the type of content, algorithm, presentation, and trends on each platform that you plan to put your business on is a critical necessity.
Maintain your tone while on social media.
Much like offline mode, it is always crucial for businesses to maintain their reputation, even on social media. Your tone should be neither too official nor formal and nor overly friendly. Understanding what works with your particular audience and which demographic trend they fall under will help you figure out a way to communicate better with them.
Maintain a content calendar for your social media.
Above anything else, consistency is the most important tool to blow up your social media. So, it is crucial to have all your content organized in advance to avoid any chance of missing out on good traffic.
A good way to balance planning and to stay on trend is to plan your posts weekly. That way, your content remains relevant without adding the pressure of creating new posts every day.
Let your audience know the faces behind your company
Often, it so happens that we end up dehumanizing far too much in digitizing everything. It might be helpful to keep the humane element alive in portraying your brand on various social media platforms.
This can easily be done by sharing what goes on in your office, how the employees work around each day, and others. Introducing the key figures behind your company's making might also be good to introduce your brand to your audience! Let your viewers know who you are!
And that sums up some of the fundamental social media marketing tips that will bring you positive results if you can keep up with them consistently. Remember, social media is all about perseverance. You keep working until you hit that golden viral point. And even after that, you have to maintain your pace to keep up the outreach.