Are you considering jumping on the E-commerce business bandwagon like many others out there? Well, in our opinion, that's a fantastic idea! And, if you can organize the whole thing correctly, growing your organization will be a piece of cake for you.
So, why do we still sound so condemning? That's because building a business from scratch, especially in today's world, isn't easy at all. So, if you don't come forward with a well-versed plan, even setting up your business will be impossible for you. 
However, there's no need to be afraid. In this article, we have offered some insights on various online strategies to help you kickstart your business with a bang. So, let's not run around anymore and get on with the topic right away!
Starting An E-Commernce Business
Starting a brick-and-mortar business and an e-commerce one is quite different. However, there are a few similarities available as well. So, hopefully, this guide can help you in both aspects to some extent!
Step – 1: Research The E-Commerce Space Properly
No matter what you are doing, performing necessary research in any field is extremely important. And, the same goes for the e-commerce cosmos as well!
So, before you do anything else, we'd ask you to conduct a study in the e-commerce space and find what's ticking. This way, it will be easier for you to find your niche and kickstart your business. Aside from this, you can also get the answers to the following questions –
What's the usual consumer behavior in your niche market?
Where will you outsource your products from?
What does the future of the business look like?
Do you have to offer single products? Or, can you go for subscriptions or packages as well?
Would you encounter any legal issues with the products you are trying to sell?
Which location should you choose if you were to open a physical store later?
When you have an idea about what you are going to do, it'll be easier for you to boost your brand awareness.
Step – 2: Select A Name For Your Business
So, have you already determined your niche? Then, let's move on to creating the name of your business and implementing a legal structure in it.
Like any other organization, you'll have to choose a unique name for your business. However, you'll also need to ensure that it indicates whatever your company is doing or offering.
For example, if you are selling packaged goods, your company's name has to ooze the same essence as your corporation.
Finally, make sure that the nomenclature of your business should be easy to remember. Otherwise, it might be difficult for you to create a strong branding persona.
Step – 3: Choose An E-Commerce Platform
Next, you will need to create a website and select an e-commerce platform that'll host your website. Here, we have enlisted a few of them for your convenience –
BigCommerce – A scalable and flexible option, which excels in the department of multi-channel selling. However, it does not have any 1-click selling process at all.
Shopify: A easy-to-use and fast-loading platform that offers convenient drop shipping and 1-click selling programs. However, its checkout system isn't customizable.
WooCommerce: The most SEO-friendly platform available out there. However, it asks for a huge amount of hosting price and requires loads of different extensions as well.
Shift4Shop: Offers a better blog feature compared to Shopify. It also comes with various integrations. However, its template feels a little too outdated.
Volusion: Comes with a recurring payment or subscription system. It's quite SMB-friendly too. However, the loading time will be pretty slow for this platform.
As you can see, each of these platforms come with their own advantages and disadvantages. So, you'll have to choose something that works perfectly for your business structure.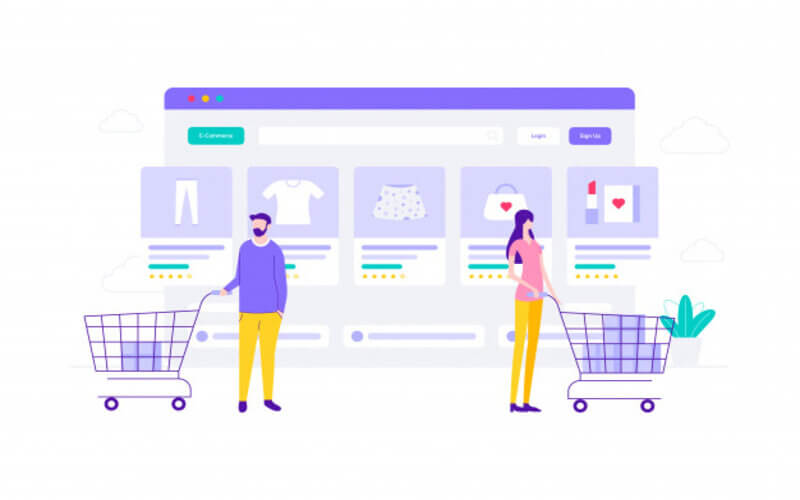 Step – 4: Customize Your Homepage Carefully
When someone visits your online store, the first thing they'll see is your homepage. So, if it does not catch their eyes, things will turn out to be a disaster for you.
So, if you are unaware of how to create a homepage, then make sure to follow these tips carefully –
Keep the layout of your website simple.
Make the navigation system of the site easy to follow.
Use mobile-friendly fonts while writing content.
Include CTAs in your write-up.
Utilize the whitespace of your webpage carefully.
Design the site with eye-catching colors.
Keep adding rich images and videos for explaining things properly.
Additionally, you may also use various colors on your web pages to match your branding persona.
Step – 5: Set Up Your Platform With Shopping Cart, Checkout, and Wishlist
Finally, you will need to set up your shopping cart, checkout, and Wishlist options to finish things up. With these options, you can improve your consumers' shopping experience a lot more than usual. So, make sure to check frequently if everything's working smoothly or not.
In addition, we will also ask you to utilize various online payment options, such as PayPal or Apple Pay on your website. This way, everyone can pay you instantly and complete their checkout procedure.
Pro Tip: Try not to force your consumer to create an account or go through various extra steps before checkout. Instead, you should implement a one-click buy option to make things convenient for them.
Final Say
Congratulations! Now, you are, indeed, prepared to create an e-commerce store and launch it with a bang. However, before you get too excited, we'd like to remind you of something – curating personalized marketing strategies. Otherwise, no matter how better you perform in other aspects, it will be almost impossible for you to sell your products properly.
This marks the end of our guide on how to start an e-commerce business through five steps. So, what do you think? Do you agree with whatever we've said throughout the article? Or, do you have any objections or suggestions for us? Don't forget to let us know all of your thoughts in the comments below!